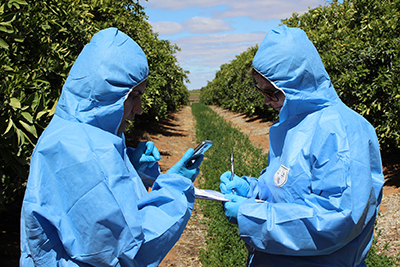 Surveillance officers participating in a citrus surveillance and pest triage workshop in 2019.
By improving links between surveillance professionals and providing specialised training opportunities such as the workshop, the network aims to strengthen plant pest surveillance capability and capacity.
"Surveillance for pests and diseases is vital to the plant biosecurity system, so supporting those who conduct this work to collaborate and enhance their skills is essential," said Chris Dale, Chair of the Plant Surveillance Network Working Group.
"The network's new website will support surveillance professionals across the Australasia-Pacific region by allowing them to share information and access member-only events and resources."
Mr Dale says the network is free to join and open to everyone engaged in surveillance activities in a public, private or volunteer capacity in Australia, New Zealand and the nearby region.
"A wide range of people can become members of the network like government staff, industry representatives, agronomists, researchers and even community gardeners if they can clearly demonstrate involvement in a surveillance program."
Dr Natalie O'Donnell, Diagnostics and Surveillance Networks Coordinator at Plant Health Australia, says the site was developed to be a central hub of up to date plant health surveillance information accessible by everyone across the surveillance spectrum.
"The website allows members to easily access surveillance resources like protocols, fact sheets, presentations and videos, so that they can stay up to date with current practices."
"Members also gain access to a contact directory of other members, and events and training opportunities like the Annual Surveillance Workshop."
"Over the last year the site has been in a testing phase with existing members, but we are now excited to share it and encourage new people to join the network."
To join the network click here.
The Plant Surveillance Network Australasia-Pacific was established in 2017 by the Subcommittee for National Plant Health Surveillance. It is jointly managed by the the Australian Government, Australia's state and territory governments, and Plant Health Australia with funding provided by the Department of Agriculture, Water and the Environment.