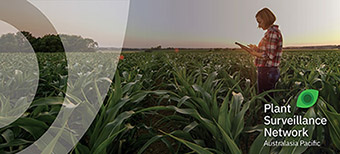 The ASW is an opportunity for members of the Plant Surveillance Network Australasia-Pacific (PSNAP) to come together to share knowledge and find out what others working in plant biosecurity surveillance roles are doing and experiencing in their jobs, and what is happening more broadly in the sector.
Expressions of interest
You must be a member of the network and logged in to the PSNAP members portal to view more information and register an Expression of Interest to attend. To access full details, log into the portal and go to the 'Events' tab in the menu on the left of the page.
If you are interested in attending but are not a member, you can join for free right now.
Applications close COB 19 February 2020.
Please note there are very limited places for this workshop. The organisers will aim to achieve the most suitable representation across the network.
PSNAP membership
Anyone employed by an Australian or New Zealand government department responsible for biosecurity and undertaking a role relating to surveillance (policy, planning or operations) will be granted membership to the network, as well as anyone based in Australasia-Pacific region who is:
directly involved in an industry-based biosecurity surveillance program (planning or operations)
working on a relevant research discipline in a research institution (government, university, museum or private research organisation)
a private surveillance consultant
able to demonstrate input into community-based biosecurity surveillance program (such as the Botanic Gardens Biosecurity Network), or
a member of the National Plant Biosecurity Diagnostics Network (NPBDN) with an interest in surveillance.
Anyone who does not meet one or more of these descriptions can apply to join the network by emailing PSNAP@phau.com.au
Contacts
For further information or with questions contact PSNAP@phau.com.au